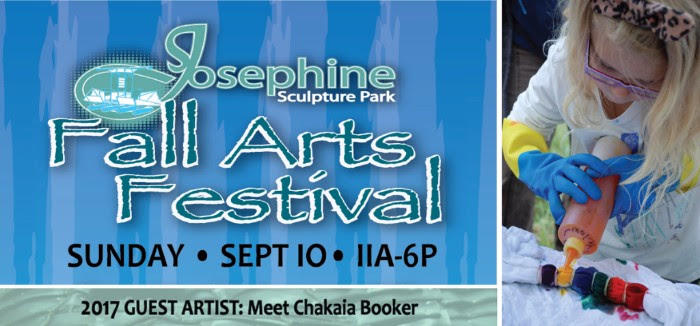 Featuring guest artist Chakaia Booker:
participate in her sculpture workshop and experience
The Conversationalist installed at JSP!
Over 20 hands-on activities for all ages and abilities led by artists from across the region, live music, food trucks,
West Sixth Brewing.
Exploratory booths from Salato Wildlife, KY Natural Lands Trust, KY Historical Society & more!
This is a free event, parking is just $5 per car.
---
Chakaia Booker
artist talk
The Grand Theatre
Monday Sep. 11     6:30-8pm
Join us for an inspiring evening of images and ideas presented by Chakaia Booker, followed by a question and answer session and a reception. This is a free event, open to the public and is supported by a grant from the National Endowment for the Arts and in partnership with The Grand Theatre.
Chakaia Booker is a world renowned artist based in New York City. She has art in the permanent collection at the Metropolitan Museum of Art, the Akron Museum of Art, The Max Protetch and June Kelly galleries in New York.